Shure GLXD24 SM58 Handheld Wireless Professional Karaoke Microphone

Sorry, this item is out of stock
WELCOME TO  LIGHTYEARMUSIC 
PLEASE CALL US WITH ANY QUESTIONS @ 800-557-7464 
MONDAY-FRIDAY 10:00AM-7:00PM 
SATURDAY 10:00AM-3:00PM 
LIGHTYEAR LIFETIME WARRANTY
SIMPLY THE BEST
FREE LIFETIME TECHNICAL SUPPORT!!!
FAMILY OWNED BUSINESS FOR OVER 25 YEARS
OVER 35,000 SALES ON EBAY ALONE
BEST CUSTOMER SERVICE AVAILABLE 24/7
1-800-557-7464
1-216-929-1022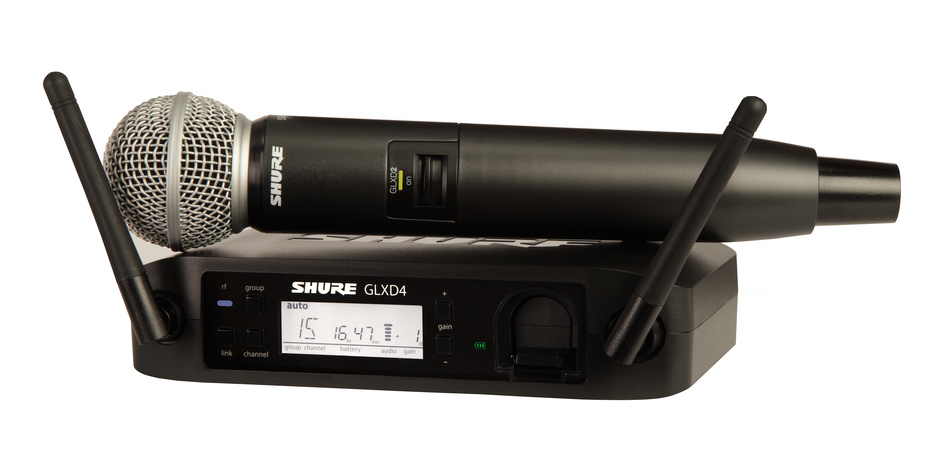 GLXD24/SM58 Handheld Wireless System
The GLXD24/SM58 Handheld Wireless System is part of the GLX-D wireless systems family.
Revolutionary Shure GLX-D® Digital Wireless Systems combine leading-edge LINKFREQ Automatic Frequency Management technology with best-in-class intelligent lithium-ion battery rechargeability to define the new standard for seamless operation and digital audio clarity.
Includes GLXD4 receiver, GLX2/SM58 handheld transmitter, microphone clip, power supply, rechargeable battery, USB cable, carrying case, and user guide.
Featuring an integrated SM58® cartridge, the GLXD2/SM58 transmits wireless audio with digital clarity and rock-solid reliability.
Works with GLX-D® Digital Wireless Systems
Offers up to 16 hours of continuous battery life with Shure lithium-ion rechargeable batteries
Includes GLXD2/SM58, SB902 lithium-ion rechargeable battery, microphone clip, USB charge cable, and user guide
The GLXD4 single-channel wireless receiver features revolutionary LINKFREQ Automatic Frequency Management (2.4 GHz frequency band) and battery rechargeability. An integrated battery charge port can charge a spare Shure lithium-ion battery while the system is in use.  
Allows operation of up to 4 compatible systems in a typical setting, and up to 8 maximum under ideal conditions. For use with GLX-D® Digital Wireless Systems.
Features
High-resolution LCD screen status display
Real-time transmitter battery status displayed in hours and minutes (accurate within + / - 15 minutes)
Remote adjustable transmitter gain control
Two-color charge indicator LED
Green:  Charged
Flashing Green: 90% charged
Red:  Charging
XLR and ¼" output connectors
Lightweight, durable construction