USED CAVS MACHINE JB199 PREMIER KARAOKE PLAYER PROFESSIONAL SYSTEM DJ KJ



WELCOME TO  LIGHTYEARMUSIC 
PLEASE CALL US WITH ANY QUESTIONS @ 800-557-7464 
MONDAY-FRIDAY 10:00AM-7:00PM 
SATURDAY 10:00AM-3:00PM 
LIGHTYEAR LIFETIME WARRANTY
SIMPLY THE BEST
FREE LIFETIME TECHNICAL SUPPORT!!!
FAMILY OWNED BUSINESS FOR OVER 25 YEARS
OVER 20,000 SALES ON EBAY ALONE
BEST CUSTOMER SERVICE AVAILABLE 24/7
1-800-557-7464
1-216-929-1022
JB199 LIGHTLY USED WITH A 6 MONTH NEW WARRANTY $1799
MG10XU MIXER $199
2 X 3500 WATT SPEAKER $800
2 WIRELESS MICS  $179
2 MIC STANDS WITH CLIPS $70
YAMAHA MG10XU MIXER $199
HARD SHELL RACK CASE  $200
ROLL OUT KEYBOARD $200
ALL CABLES INCLUDED $150
6000 SONGS PRELOADED! $12000
THE MAKING OF THIS BOOK TOOK 1 MONTH!! $1600
ARTIST PRINT OUT $25
TITLE PRINT OUT $25
SHIPPING $200
TOTAL COST 17,646.00
YOUR COST ONLY $2995.00
DEALS DON'T ALWAYS COME BY LIKE THIS ONE!!
LIFETIME SUPPORT IT'S WORTH ALL THE MONEY IN THE WORLD
AVS JB-199 Digital Jukebox can store and access over 100,000 songs with simple push of buttons. It is powerful and convenient, sophisticated and simple. CAVS JB-199 is the top-of-the-line commercial karaoke player. Its proven track record has won countless praises for its functionality and reliability.
CAVS JB-199, based on an open architecture, supports CD+G, Super CD+G, MP3+G, MCG, NCG, AVI, and WMV song files. It can import the songs from discs and hard drives including those of JB-99s and other JB-199s. It can also record as well as write in real-time your karaoke sing along onto blank discs.
-- 
 Since 2007, CAVS have introduced the art of networking the Wi-Fi devices within Intranet for songbooks, which is now a seamless part of the CAVS karaoke systems. The Wi-Fi devices such as cell phones and tablets can increase the participations of the customers through singing, scoring, and having fun.
 7000 watts powered DUAL 15" speaker w/LED.
$400.00
Dimensions

15.0" L x 18.5" W x 43.1" H

Weight
51.0 lbs
Peak Power
3,500 Watts
Woofer

2 x 15" LED • 1.375" Voice Coil • 50 oz. Magnet

Tweeter
1 x Piezo
Inputs
Bluetooth • SD Card • USB Flash Drive • RCA
Mic Inputs
1/4" with separate echo & volume controls
Guitar Inputs
1/4" with separate volume control
Outputs
RCA
Bluetooth
v2.0 with EDR (2.4 GHz) technology • 30 foot range
USB/SD Support
Plays .mp3, .wma. & .wav (16 GB max)
Frequency Response
40Hz - 20KHz
Sensitivity
95 ±2dB (1W@1M)
Impedence
8 ohms
Voltage
110/220v
Yamaha MG10XU Mixing Console
10-Channel Analog Mixing Console (4XLR/10 Line Input)
24 High-Grade Digital Effects
USB Connectivity for 2-In / 2-Out Laptop Playback / Recording
24-Bit / 192kHz Capability
Includes Cubase AI Digital Recording Software (Download Version)
Works with iPad (v2 or Later - Apple Camera Kit Required)
Audio 2000s AWM6456DU UHF Dual Wireless Handheld Mics
High-Quality Dual Wireless Mic System
Dual-Diversity with 100 Adjustable Frequencies
Built-In Charge Points on Mics
UHF Bandwidth Transmission
RSQ UHF 380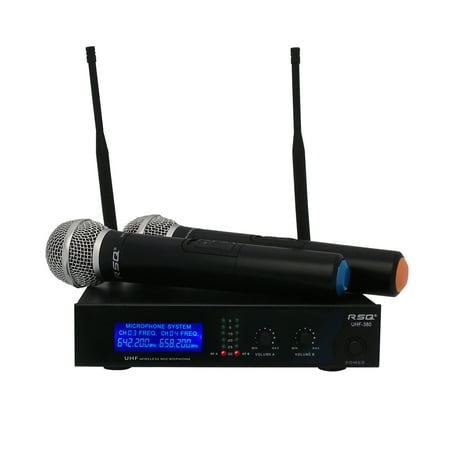 Ideal for vocal, karaoke and PA.
Neodymium magnet for high output level.
Internal shock mount for reduced handling noise.
Durable metal construction receiver.
On/off switch for onstage control.
Half-rack dual UHF wireless receiver.
Two independent balanced XLR outputs or one unbalanced 1/4-inch mix output.
Two Independent level controls.
Each transmitter operates AA battery.
Multi-segment RF level and peak audio indicators for each channel. 
UHF-380 R
Dual Channel Receiver
Oscillation Mode
Quartz Controlled Fixed Frequency
Modulation
Wideband FM
Frequency Range
614MHz - 698MHz
Working Range
20m (65 ft.) typically; 150m (500ft.) line of sight. (NOTE: Operating range depends on  many variables,
 Including RF signal absorption, reflection and interference)
Max Deviation
50 KHz
S/N Ratio
≥ 105 dB
Sensitivity
2uV@sinad=12dB
T.H.D
≤ 0.5% @ 1 KHz
Image Rejection
85 dB Typical
Spurious Rejection
75 dB Typical
Frequency Response
60 Hz - 16 KHz
Squelch Control
Duel Squelch Circuit
Audio Output Voltage
Balanced (XLR Port) : 0-400 mV  (2EA)
Mixed ( ¼" Port) : 0-300 mV (1EA)
Working  Voltage
DC 12-15 V
Working  Current
≤ 450mA
UHF-380 T
 Handheld Transmitter 
Transmitter Power
30mW ( Depend on applicable country regulations)
Mic Capsule
Dynamic
Stability
Spurious Emission
< 30 mW
<  40 dB (with Carrier)
Battery
AA x 2
Frequency Response
60Hz ~ 16 KHz
PLUS 6,000 KARAOKE SONGS FOR FREE!!!
Everything is brand new except for the JB199 which has been lightly used. It was used in a home and it is in great shape. We have inspected it and replaced the Hard drive with a brand new one.
  I will give you a 6 month manufacturer warranty with it because of it's amazing shape.