Professional DJ System Complete DJ System PA System 15" Speakers DJ RIG Sound

WELCOME TO  LIGHTYEARMUSIC 
PLEASE CALL US WITH ANY QUESTIONS @ 800-557-7464 
MONDAY-FRIDAY 10:00AM-7:00PM 
LIGHTYEAR LIFETIME WARRANTY
FREE TECHNICAL SUPPORT!!!
FAMILY OWNED BUSINESS FOR OVER 25 YEARS
OVER 35,000 SALES ON EBAY ALONE
BEST CUSTOMER SERVICE AVAILABLE 24/7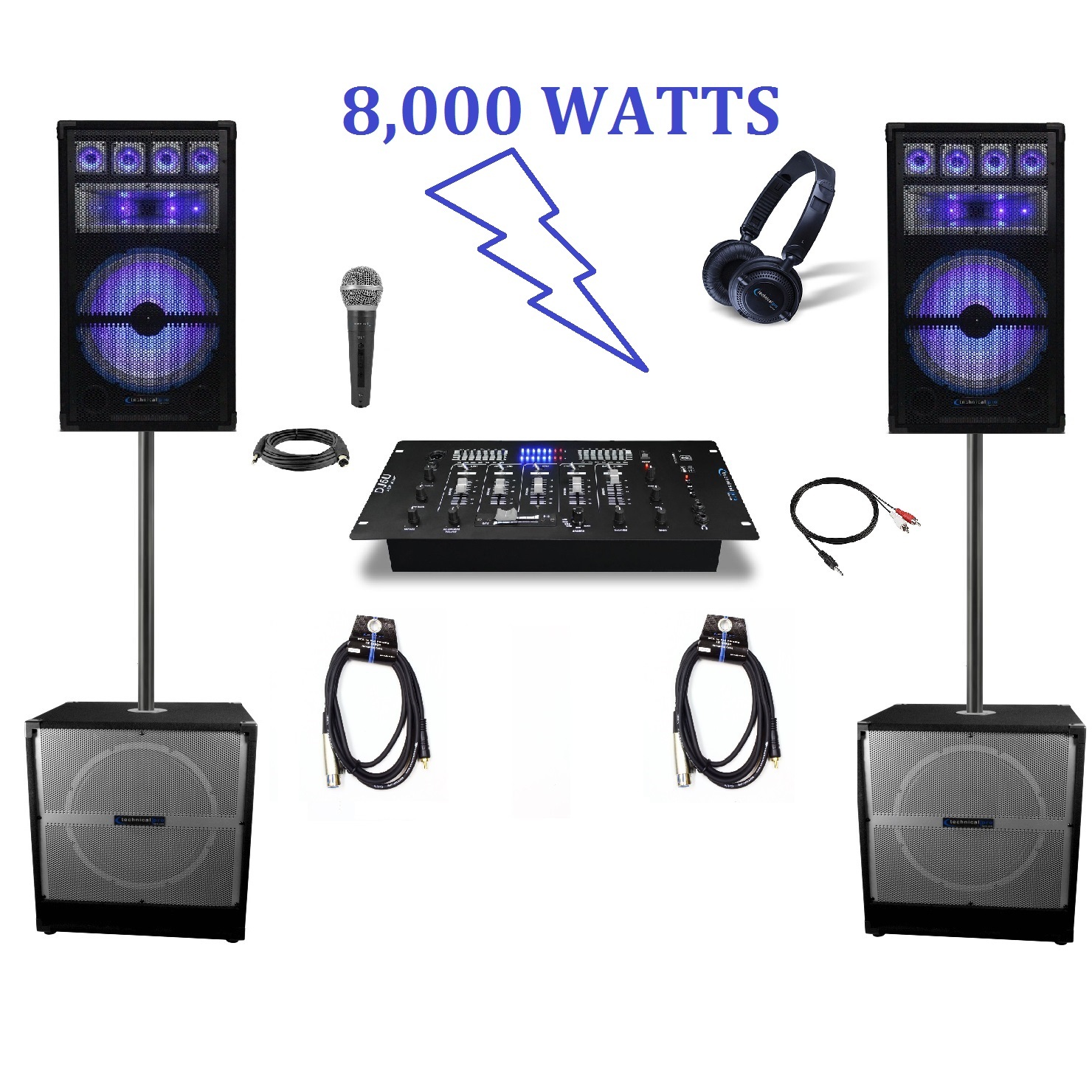 This mixer allows for direct play from any device!
What sets professional DJs apart from the amateurs is not just their mixing ability, but the quality of their sound equipment. 
That's where our Professional Audio Mixers comes in. This all-purpose unit is rich in features and functionality, 
giving you the sound design options you need to keep the club bouncing all night long!
Pair of 15" LoudSpeakers-2500 Watts a Piece!
-15" Woofer
-High-powered Horns for amazing vocal clarity
-LED Lights for Great ambiance
Lightyearmusic's speaker series consists of different sizes and power outputs all put together in a set of the most durable and 
long lasting speaker design's on the market. If you are a studio designer, setting up sound for a live stage or venue you will find what you need in this series of speakers.
 Depending on your venue size and needs you may go for the smaller or larger offering, each built with the same innovative technology 
that is expected from Technical Pro. The LYM LED speakers are meant for mid to large sized venues or live stage set ups.
Pair of 15" Powered Subwoofers-1500 Watts a Piece!
-1500 Watts a Piece
-Amazing bass response for quick hitting beats
-Built in Crossover and controls for adding speakers
Lightyearmusic's sub-woofers are built with the same sturdy design and advanced technology that you can find in all of their loudspeakers and gear. 
Carefully putting together the pieces and then fitting it in a rugged, long lasting case they will give you a professional 
sound and last a very, very long time. The 15" Subwoofer System with Built in Crossover 
is another product from Lightyearmusic that has quickly risen to industry standard status in the world of sub-woofers.
Pair of Speaker Poles
Wired Microphone
-Great for making announcements over your Sound System
-Call to add wireless microphones to system
When we created these headphones
 we focused on what matters: sound. To create a pair of headphones that perfectly
 replicates audio over 
the full spectrum of human
 hearing we fitted the HP23 out with hefty, 40mm super bass drivers well-equipped to dish out dish out pulsing bass. 
Additional audio safeguarding technology helps the HP23 deliver highs up to 40 KHz.
Complete Cable Package