NEW HOME KARAOKE SYSTEM 4000 WATTS PEAK POWER RSQ MKP2000 PRO PLAYER BLUETOOTH
WELCOME TO  LIGHTYEARMUSIC 
PLEASE CALL US WITH ANY QUESTIONS @ 800-557-7464 
MONDAY-FRIDAY 10:00AM-7:00PM 
SATURDAY 10:00AM-3:00PM 
LIGHTYEAR LIFETIME WARRANTY
SIMPLY THE BEST
FREE LIFETIME TECHNICAL SUPPORT!!!
FAMILY OWNED BUSINESS FOR OVER 25 YEARS
OVER 35,000 SALES ON EBAY ALONE
BEST CUSTOMER SERVICE AVAILABLE 24/7
1-800-557-7464
1-216-929-1022
THIS HOME KARAOKE SYSTEM IS PERFECT FOR ANY OCCASION
INCLUDED IN THIS SYSTEM
ONE AMPLIFIER
ONE MKP2000 KARAOKE PLAYER
TWO SATELLITE SPEAKERS
DUAL WIRELESS MICROPHONES
ONE REMOTE CONTROL
THIS SYSTEM IS PACKED WITH EVERYTHING YOU NEED TO GET THE PARTY GOING!!
WITH ITS STYLISH DESIGN AND AWESOME LED EFFECTS, YOU CAN'T GO WRONG
OH, AND LET'S NOT FORGET THE 4,000 WATTS!!!!!
BLUETOOTH CAPABILITIES ENABLES YOU TO CONNECT YOUR SMARTPHONE, COMPUTER, AND A VARIETY OF OTHER MUSIC STORAGE DEVICES!
IT'S DUAL 10" WOOFERS ALLOW IT TO DISH OUT EXCEPTIONAL BASS. BOTH SPEAKERS HAVE POWERFUL TWEETERS AND MIDRANGE DRIVERS FOR HIGHS AND MIDRANGE AUDIO. 
ALL OF THIS COMBINED MAKES FOR A PERFECT AUDIO EXPERIENCE
ON TO THE TECH SPECS
Inputs
Bluetooth • SD Card • USB Flash Drive • FM • RCA
Mic Inputs
(Two) 1/4" with separate echo & volume controls
Bluetooth
v2.0 with EDR (2.4 GHz) technology • 30 foot range
USB/SD Support
Plays .mp3 (32 GB max)
Frequency Response
20Hz - 20KHz
MKP-2000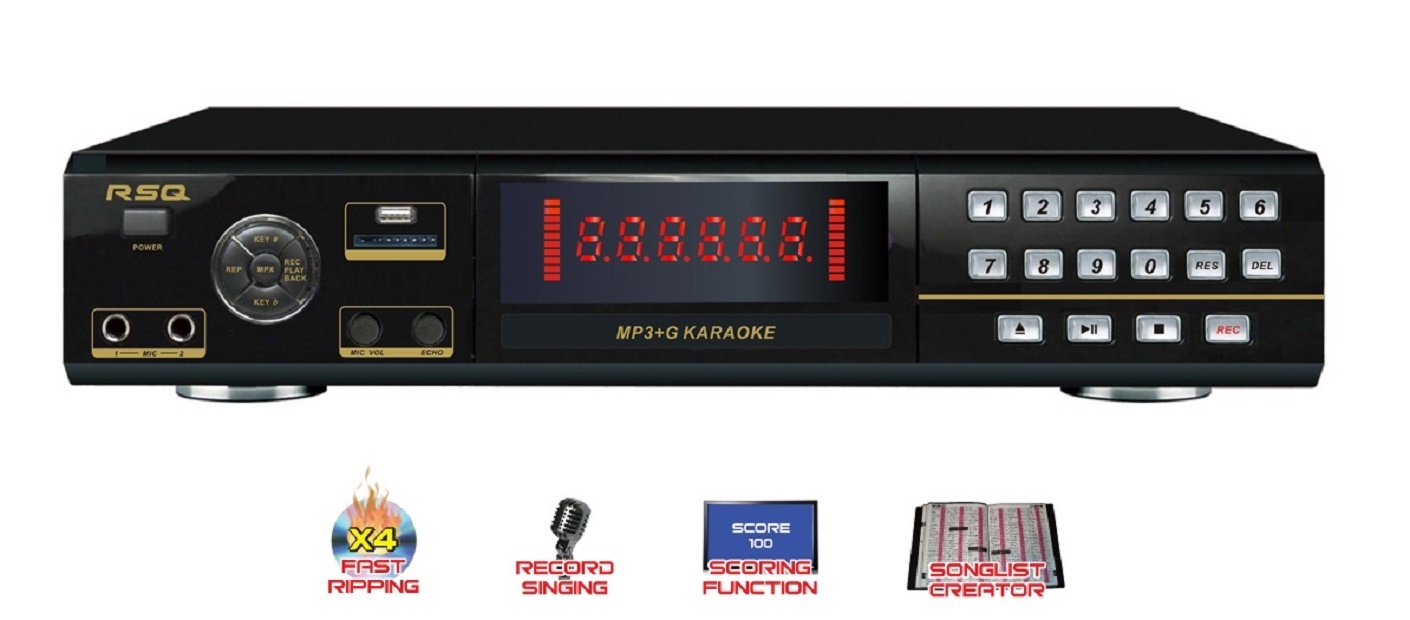 CD+G, MP3+G, DVD, MP3, VOD, Etc...
VGA, RCA, Component, Coaxial, 5.1 Channel Sound, Optical, S-Video, HDMI
FEATURING
Multi-format disc player with USB(2.0), SD card.
Cue mode cues each track for professional karaoke performance 
Convert CD+G Discs into MP3+Gs at 1x or 4X the Speed. 
• Digitally record your singing into an MP3G file to USB or SD Card.
• Direct  Track Access
• +/- 6 Steps Key Control 
• 1080p HD Video Output 
• Scoring Function
• Video Output: HDMI, Composite Video, S-Video, Component Video, VGA Video 
• Audio Output: 2 Channel (L/R), 5.1 Channel, Optical and Coaxial 
• Two 1/4" Microphone Inputs with Individual Volume Control 
• Video Signal System: PAL/ NTSC/ AUTO 
• Rack Ear Included
 Specifications :
HDMI, 5.1CH, SCART, VGA SUPPORT
2 MICS INPUT
SD, USB SLOT 
RACK MOUNTABLE
MP3+G/CD+G RECORDING WITH MUSIC & VOICE
FAST RIPPING AT 4X SPEED(CD+G)
INSTANT RECORDED SONG PLAYBACK
DIRECT ACCESS PLAYBACK BY SONG NUMBER
SONG CREATOR
FAST SONG SEARCH BY INDEX & PAGE UP/DOWN
MULTIPLEX
SCORING FUNCTION
DUAL WIRELESS MICROPHONES
The VHF dual-channel wireless system is a direct response to the needs and desires of professionals as well as home users. 
The advanced circuitry of the system provides reliable RF transmission and reception with a transmission range of about 100 feet.
 With the exceptional RF transmission and reception, the system fully delivers all the reception and audio quality features that allow you
to really enjoy the freedom of wireless.
Receiver
Carrier Frequency Range
VHF Band
Receiving Mode
Superheterodyne Double Conversion
Intermediate Frequency
10.7MHz
Antenna Input
Telescopic Antenna / 50Ω
Sensitivity Regulating Range
15-30dBuV
Dimensions (W X D X H)
8.3" X 6.3" X 2.1" (210 X 160 X 53 mm)
System
Carrier Frequency Range
VHF Band
Modulation
Frequency Modulation (FM)
Oscillation Mode
Crystal Oscillator
Deviation
±45KHz (Compress-Expand and Automatic-Volume-Limit Circuit)
Channel Width
Single Frequency
Total Harmonic Distortion
< 0.3% (1KHz, A-Weighting)
Frequency Response
30-18,000Hz (±3dB)
Lightyearmusic EXCLUSIVE!!!
INCLUDES 500 FREE SONGS! CALL US TODAY AND WE WILL 
ADD 3 OF YOUR FAVORITE KARAOKE SONGS AT NO EXTRA CHARGE!!
---
On Oct-01-16 at 11:06:38 PDT, seller added the following information: