Handheld Rechargeable Wireless Professional Karaoke Microphone GREAT SOUND

WELCOME TO  LIGHTYEARMUSIC 
PLEASE CALL US WITH ANY QUESTIONS @ 800-557-7464 
MONDAY-FRIDAY 10:00AM-7:00PM 
LIGHTYEAR LIFETIME WARRANTY
FREE LIFETIME TECHNICAL SUPPORT!!!
FAMILY OWNED BUSINESS FOR OVER 25 YEARS
OVER 35,000 SALES ON EBAY ALONE
BEST CUSTOMER SERVICE AVAILABLE 24/7
Dual Rechargeable Wirless Microphones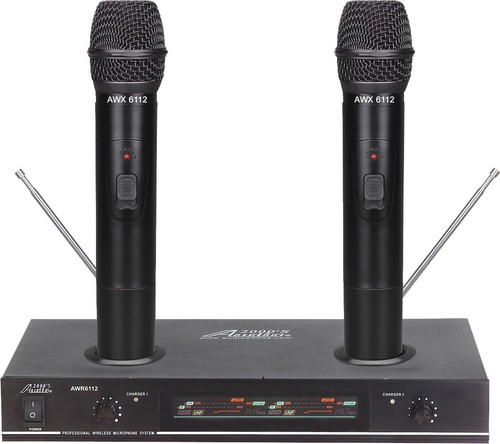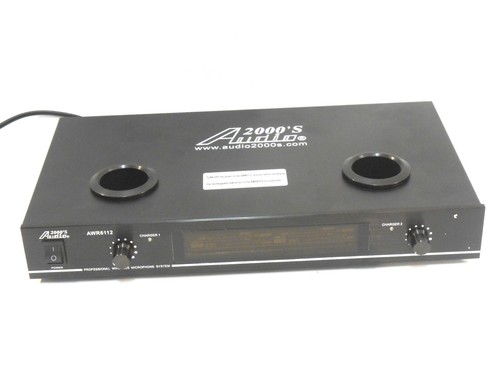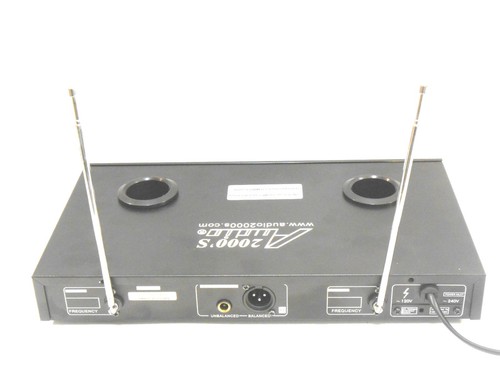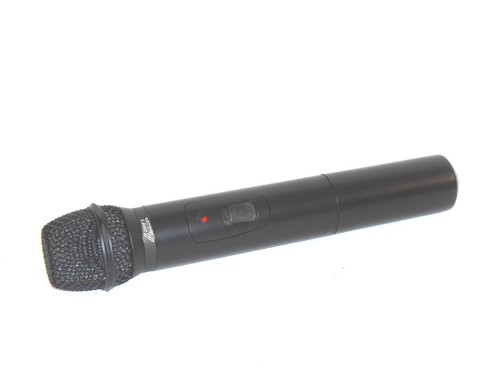 The Audio2000'S® AWM6112 Plug-In-N-RechargeTM VHF dual channel wireless microphone system is a wireless microphone system with the recharge mechanism right on the top of the receiver (AWR6112) and on the microphone (AWX6112). Intended to be a solution provider for various application environment, the AWM6112 system is developed to provide the following benefits to the users:
Friendliness: The Plug-In-N-RechargeTM feature, with the recharge mechanism built right on the microphone and the receiver, makes the wireless microphone systems ready to be used at any time. 
A rack-mount kit is included such that the AWM6112 is rack mountable.
Dependability: The AWM6112 system has been designed and manufactured to be dependable, problem free, versatile and easy to use. 
Portability: The color cardboard box is designed to be carried easily and is, hence, highly portable. 
Quality: The AWM6112 system has been engineered to have a wide audio frequency range, high S/N ratio, and outstanding performance. Two NiMH AA rechargeable batteries are used for each handheld microphone to avoid the traditional NiCd battery memory problems. 
Affordability: The AWM6112 system is intended to be readily accessible to everyone with exceptional performance at a preferred and affordable price. 
APPLICATIONS
Disc jockey (DJ); karaoke jockey (KJ); church; school; karaoke; home entertainment
AWR6112 RECEIVER
FEATURES
* Recharge Mechanism Built-in on the Receiver
* Balanced and Unbalanced Audio Outputs
* Full Rack Case with Power and RF Indicators
* RF Input with Built-in RF Preamplifier to Improve S/N Ratio, Sensitivity and Dynamic Range
* Low Noise Mixer Circuitry for Reducing interference
* 120V-240V AC Power Supply
FRONT PANEL FUNCTIONS
2. Channel 1 Volume Level Control
3. Channel 1 Recharge LED Indicator
5. Channel 2 Volume Level Control
6. Channel 2 Recharge LED Indicator
REAR PANEL FUNCTIONS
2. Unbalanced Mixed Audio Output (1/4" Jack)
3. Balanced Mixed Audio Output (XLRM Jack)
6. 120V / 240V Voltage Selection Switch