DUAL 10'' BLUETOOTH RECHARGEABLE PA POWERED SPEAKER WIRELESS MICROPHONE KARAOKE
WELCOME TO  LIGHTYEARMUSIC 
PLEASE CALL US WITH ANY QUESTIONS @ 800-557-7464 
MONDAY-FRIDAY 10:00AM-7:00PM 
SATURDAY 10:00AM-3:00PM 
LIGHTYEAR LIFETIME WARRANTY
SIMPLY THE BEST
FREE LIFETIME TECHNICAL SUPPORT!!!
FAMILY OWNED BUSINESS FOR OVER 25 YEARS
OVER 35,000 SALES ON EBAY ALONE
BEST CUSTOMER SERVICE AVAILABLE 24/7
1-800-557-7464
1-216-929-1022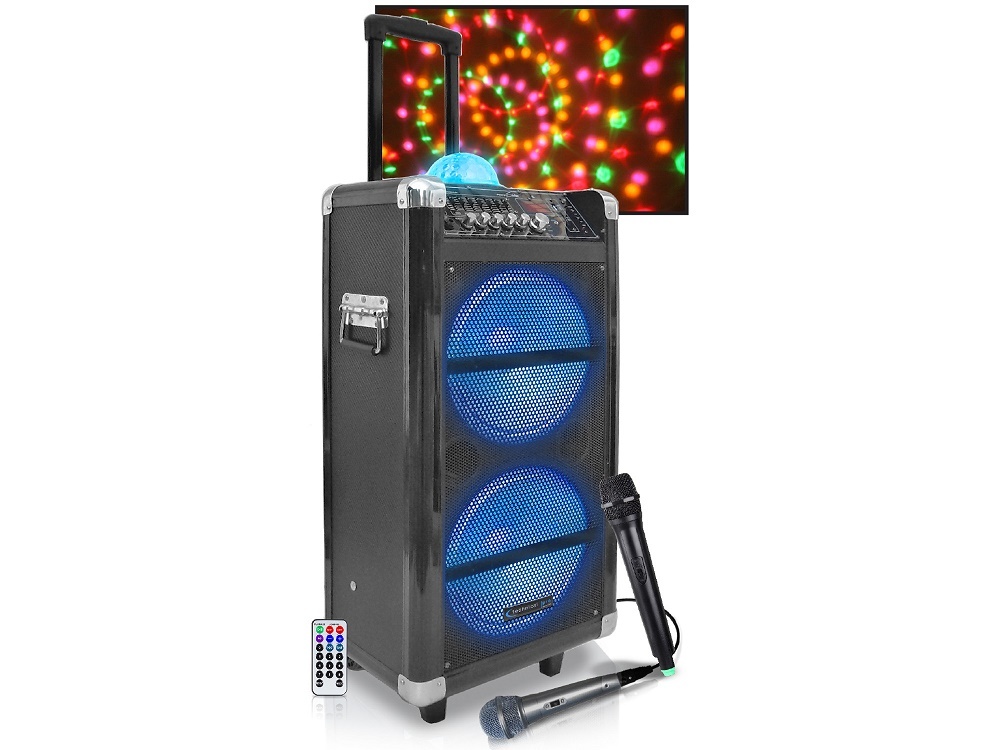 DUAL 10'' BLUETOOTH RECHARGEABLE 
PA SYSTEM WITH WIRELESS MICROPHONE
A completely independent portable speaker that includes everything a DJ or party giver could need to throw a celebration at a temporary venue. 
The speaker includes an amp, an equalizer, two microphones, a remote control, and a disco light. This unit makes a great mobile disco all by itself.
The speaker gives out 2,100 Watts of peak power and it is a sturdy piece of equipment. It weighs 44 pounds and is 27 inches high. 
To facilitated transport, the unit has wheels fitted in the bottom of the case and it has a telescoping handle fused to the back. 
There are additional handles on either side of the speaker and integrated feet on the bottom to stabilize it once it is in place.
This speaker exemplifies the company's commitment to durability. The corners of the cabinet are reinforced, because those are the places that 
a portable piece of equipment is most likely to get damaged during transportation. The front of the speaker is protected by a perforated
 steel grill and the two 10-inch woofers are made decorative by secreted LED lighting. There is a metal reinforcement
 band embedded in the grill across the front of each woofer.
The control panel is on a slant at the top of the speaker's face. Its dials are protected from side swipes that could knock them off
 by the reinforced corners that extend to right angles either side. The panel includes controls for the lighting and the various input 
devices the speaker can accept. Those inputs include the two microphones, one of which is wireless, using VHF frequencies from 
up to 50 feet away, and the other is corded with an 8-foot lead. Other input sockets are a guitar jack point,
 a USB port, an SD card slot, RCA sockets, and an 1/8 inch AUX connector. The speaker can also 
connect to wireless devices through its Bluetooth capability.
The built-in amp can record out through the USB port and the SD card slot in the MP3 digital format. The controls include
 a 7-band equalizer and an LED display panel means you can keep track of the speaker's performance even in dark places.
You don't need a power supply to use this speaker because it has a built-in rechargeable battery. The off-grid capabilities of this
 unit keep it running for up to 5 hours without a main power supply, and it comes with an adapter so you can charge it up from 
the power outlet in the dash of your car. This speaker has everything!!
SPECS
Dimensions
14.5'' L x 10'' W x 27'' H
Built-in Battery
Charges in 8 - 10 hours: 3- 5 hours of life
Inputs
USB flash drive, SD Card, AUX (1/8''), RCA, Bluetooth 
Mic Inputs
Two 1/4" with One 1/4" guitar input
Card Support
USB/SD : 32 GB max
Playback
.mp3 & .wma files from USB drives and SD Cards 
Records
.mp3 files onto USB Flash Drive or SD Card 
Bluetooth
v2.0 with EDR (2.4GHz) technology
Built- in Features
7 Band Equalizer
Mount
Telescoping handles, side carry handles, & wheels
Includes
1 VHF wireless mic, 1 corded mic (8 ft), LED light globe, & remote